Join Us for Worship
Cantonese Service
9:30am in the Sanctuary
English Service
11:15am in the Sanctuary
Mandarin Service
11:15am at the San Mateo Marriott
Synergy 1 Room, 2nd Floor [map]
Iglesia Bautista Emanuel
4:00pm in the Sanctuary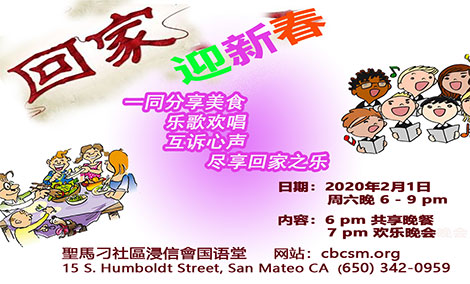 Our Mandarin Service is Moving!
Starting December 15, 2019, our Mandarin service will begin meeting at the San Mateo Marriott Hotel (1770 S Amphlett Blvd, San Mateo 94402) in the Synergy 1 conference room on the 2nd floor [see map] The hotel will offer free parking validation.
The Cantonese and English worship services will remain at our building on Humboldt street.
We look forward to seeing you there! If you have any questions or would like more information, please feel free to call the CBC office at 650.342.0959.